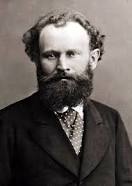 Edouard Manet (January 23, 1832 – April 30, 1883) is a French painter and engraver of the late 19th century.
He refuses to study law and fails in the career of merchant navy officer in order to start his training as a painter in 1850 in the studio of the painter Thomas Couture. He shows his first paintings in 1860, including the portrait of M and Mrs Auguste Manet. His following paintings Bull Fight, Lunch on the Grass or Olympia cause scandal. Therefore, he is rejected from official exhibitions.
He surrounds himself with artists, Henri Fantin-Latour, Edgar Degas and writers, Charles Beaudelaire, Émile Zola.
His work also includes boats, Moonlight on the port of Boulogne and horses, Horse races at Longchamp.
Manet supports the Impressionists, some of whom are friends, Claude Monet, Auguste Renoir, Berthe Morisot. With them, he leaves his workshop to paint outdoors in Argenteuil and Gennevilliers. He keeps his touch mixing neat compositions close to reality.
At the end of his life, he likes painting flowers, fruits and vegetables with dissonant color chords and portraits.
Famous from the 1880s, he dies of gangrene at the age of 51 leaving behind more than 400 canvases, pastels, sketches and watercolors.