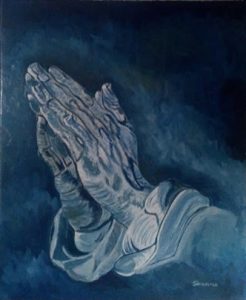 Inspired by Albrecht Dürer (1471-1528) – Hands study (1506) – Oil on canvas – 10,63 x 8,66 inch
A life to start, it seems so …
Complicated ? And yet, one morning I was born. Or rather, at the end of the day. I wasn't decided, it was decided for me. Already! And then I cried, of course. Like all newborns. But the days were numbered. Thirty, I think. Maybe thirty six. And then I fell silent. For always, I want to say. I closed myself … to myself!
Embellished? And yet my childhood passed without any real memory once an adult. Maybe a sweet salty taste. I would like to say bitter. Oh no, no more beach holidays, no more skiing in the winter either. My burned, anesthetized, amputated skin can't take it anymore. So many traces, stigmata that won't go away. Hours and lonely hours, in my bedroom changing maps. Yes, I was talking to myself and it is as true today.
Substitute? And yet, appearances always intact. A blurred vision inside. But the outside is saved, saved from prying eyes. All this pretty little world deceived, abused for some forced smiles.
Sweetened? And yet a strict and straightforward education. I had no freedom except to serve and obey. A good little soldier in fact, in real life too. Rebellion wasn't on the agenda. To consider it didn't occur to me. Oh maybe it did. But still I didn't dare. The daring of the muzzled was nip in the bud.
A life to continue, it seems so …
Insane ? And yet, the years followed one another. They had their share of failures and successes. What about my projects? But what projects? I don't know, or moreover, I didn't learn. I didn't allow myself.
Convoluted? And yet events carried me. And sometimes even deported me. But I was no longer alone, a sweet child was born. No, she can't be my portrait. I did my best in her education and above all I loved her so much. She will soon leave me, she is an adult now and I know it.
Predestined? And yet, I decided to shake everything. At fifty years of reasonable necessity, it was high time to fly away, to hope, to have fun, to be passionate. Beyond recent discoveries about my destiny, and simply live.