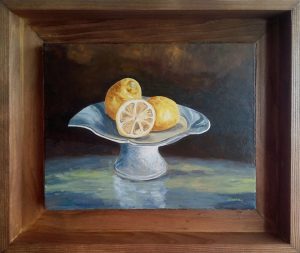 Oil on canvas – 8,66 x 10,63 inch – Unique work
Damn, I just broke my fruit basket. A legacy of my great grandmother. I don't know what happened. I wanted to take it out of the buffet. My cell phone rang. And as I am desperate for a potential phone call, an answer regarding a future exhibition in an art gallery in New York. My fingers are crossed. I must admit it would mean the world to me.
Waiting for … Godot ! The basket is badly knocked about and my lemons look ashamed. I put them on the kitchen table. Yellow and grey, it's a perfect match! As I look at the whole thing, just like that, halfway to the twilight zone, hundreds of memories jostle in my head.
It's summer time. I am approximately ten years old. I spend holidays in Brittany by the sea in the family house on my father's side. His grandmother is still alive. Bossy, obviously, but sweet Grand-Ma too. I particularly remember her lemon pie. A recipe passed down from mother to daughter and granddaughter and great granddaughter.
By the way, do you know how to keep a secret? I am sure you do. So here it is:
Ingredients
4 Oz melted butter
8 Oz caster sugar
1 zest of 1 lemon
Juice of 2 lemons
4 whole eggs
Preparation
Beat the eggs and the sugar. Then add the zest and juice of the lemons, and the melted butter.
Pierce the bottom of the pastry with a fork, pour in the mixture and put in the oven Th 6 for 25 minutes.
It's been so long since I last had a slice. Since … The last time was for my 15th birthday at the end of July. And Grand-Ma died a few days later. A huge sadness then invaded me for months. Her own daughter, my granny, in fact, brought me back to life and mostly accept death, by offering me the recipe for Christmas with a letter written by Grand-Ma herself especially for me. A flood of tears followed. A deep emotion still gripping me today as I remove the lemon pie from the oven. It is perfectly browned. I can't wait any longer. I take a picture and send it to my father with a wink smiley.