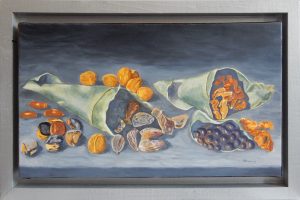 Inspired by Francisco de Burgos Mantilla (1612-1672) – Still nature with dried fruits (1631) – oil on canvas – 9,64 x 16,14 inch
It is almost Christmas, Elisabeth can't wait to open her presents elegantly arranged around the huge Christmas tree decorated with hundreds of baubles coming from all over the world.But there is one family tradition that Elizabeth loves above all. It comes from her grandmother, who takes it from her grandpa, who himself … And so on for generations. She has tried a few times to bring forward the long-awaited moment, but in vain. Her mother is very strict on this point, on every points in fact and her father even more. If that were possible. Yes, it is.
With her little sister Margaret, she is so looking forward to it. This day is going to last ages. Regardless of all the duties due to their rank, the minutes, really, flow with a terrifying slowness. She has to shower, and get dressed also. Well, for a few hours, only, since for the ceremony at the church requires new clothes. Same scenario for dinner. So many restrictions on such a beautiful day.
The fog is thick and envelops the landscape with a striking moisture. Elisabeth plays hide and seek with Margaret and the dogs enjoy running and barking in each corner of the property. Everybody forgets the time and the pushy tinkle of the bell for lunchtime.
With her muddy shoes and her black knees, Elisabeth makes quite an entrance into the dining room. Her mother's disapproving glance makes her hang her head in shame immediately and whisper deepest apologies. She turns around to change, her maid on the heels. But why is she not like all the little girls of her age with the carelessness and defiance going together. Why so many constraints.
To avoid any further incident, Elizabeth spends the afternoon in the small drawing-room reading a book without actually focusing on it. In no time, snack, dinner, mass and … here they are. Remarquably arranged on silver dishes dating from … Yes certainly. Tiptoeing, she gets to the buffet. The presents can wait but the irresistible attraction towards these fruity, sweet, crispy tastes is the strongest. Under the indulgent eyes of the whole staff and particularly her parents, Elisabeth, without waiting any longer, pounces on the awesome dried fruits.