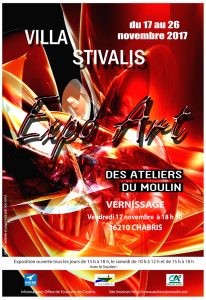 A brand new exhibition for l'Association des Ateliers du Moulin to the Villa Stivalis of Chabris. The opening was tonight. A tremendous exhibition, what a success story! Congratulations to Dominik, President and to Annick, painter. Including the volunteers who assisted with organizing today's great event.
I was lucky to expose 4 paintings :
The hunting season (The Hare inspired by Albrecht Dürer), The Goddess Athena (The Barn Owl inspired by Albrecht Dürer), The Mallard (A mallard duck fixed on a wall and a bitter orange inspired by Jean-Simeon Chardin) and a creation made at the Moulin A field of flowers I will post on my website at the end of the exhibition.