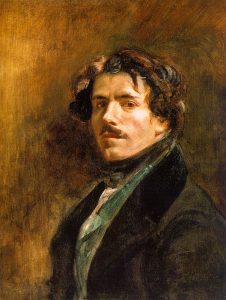 Eugène Delacroix (1798 – 1863) is a French painter considered as the main representative of Romanticism.
His father dies when he is only 7 years old. He moves to Paris and studies at Lycée Louis-le-Grand (current name). He enjoys classical reading, learns Greek and Latin and doodles drawings and sketches on all his notebooks. He also gets a musical education with an organist. He is pretty good at it.
In 1815, his uncle introduces him to a studio where he meets Theodore Gericault, who will have a great influence on his art. A teaching which privileges the drawing and the copy of the masters on the color.
He learns watercolour with Charles-Raymond Soulier, travels to England and discovers Shakespeare's theater. Throughout his life, his subjects will mostly be inspired by the theater.
His painting career starts. He will receive important orders from the State and paint on canvas and decorate the walls and ceilings of public monuments. He also leaves engravings and lithographs, and articles written for magazines.