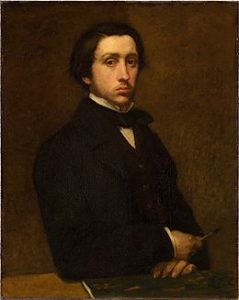 Hilaire Germain Edgar de Gas, known as Edgar Degas (July 19, 1834 – September 27, 1917) is a painter, engraver, sculptor and photographer, naturalist and French impressionist.
Edgar Degas is an aristocrat who grows up in a cultured middle class. He studies at Louis-le-Grand High School and starts drawing. After his bachelor's degree, in 1853, he enrolls at the university to study law but two years later attends the Cabinet of Prints of the National Library. He loves drawing and copies works by Albrecht Dürer, Paul Veronese, Francisco de Goya, Rembrandt. He spends his days at the Louvre and takes classes at the École des Beaux-Arts in Paris. He travels to Italy to take inspiration from the great classical masters. Back in Paris in 1859, he takes a workshop. Three years later, he meets Edouard Manet and painters and writers at the Café Guerbois in Montmartre: Monet, Pissaro, Bazille, Fantin-Latour, Zola.
He is part of the Impressionist movement as are Claude Monet, Paul Cezanne, Auguste Renoir, Alfred Sisley, Mary Cassat, Berthe Morisot and Camille Pissaro. Success is finally at the door.