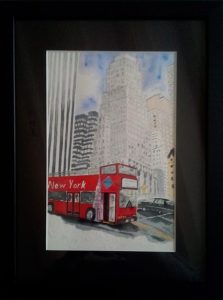 Watercolor/ Gouache on white paper – 11,81 x 7,87 inch – Unique work

What's more exciting than visiting New York? Frankly, I haven't found!
And when I found myself in this magical, beautiful and exquisite city, a dream come true … In short, I wanted to be the perfect tourist. That's why I went on a tour bus through Manhattan and its surroundings. Well, I'm not hiding from you that in the middle of February, the last floor under the sky, in the open air … it wasn't an option for two seconds! However, quietly and almost warmly sitted, I feasted through the maze of geometrically traced streets. No way you could get lost in New York. Everything is perpendicularly orchestrated and the names of streets follow an identical logic.
A crazy blizzard, a layer of snow almost dangerously covering the streets … It was a bit scary but the driver was great. On the other hand, it's his job! I passed by the famous restaurant where a mythical scene was shot with Meg Ryan and Billy Crystal in the movie When Harry meets Sally. Do you remember it ? The giant orgasm simulated by Meg Ryan, aka Sally!
And Little Italy, with its fabulous restaurants and all those streets with colorful buildings and their stairs outside, as in the movies. By the way it's crazy how New York has served as a natural backdrop to so many movies: Taxi Driver, Once Upon a Time in America, The Day After, Leon, The Constable in New York, Men in Black, Wall Street, Spider-man, Manhattan Thunderbolt, Ghostbusters, King Kong, Black Swan, Marathon Man, Dundy Crocodile, The Freedmen, The 123 Metro Attack, Cosmopolis, Working Girl, … To mention but a few I know and love!
And then, I had to leave this iconic red bus …. But I knew a little bit of the city now and could wander around listening to my desires and tastes. So goodbye to New York Sightseeing!
To recover from my emotions, straight ahead to Central Park to meet the squirrels who are anything but shy, fierce, defensive. Call it what you want but they really want me to give them something to nibble on. But I ate everything on the bus.