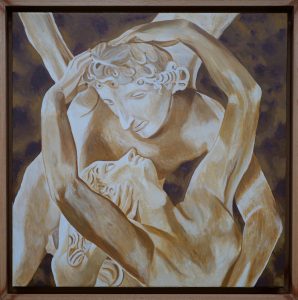 Oil on canvas – 15,75 x 15,75 inch – Unique work
When Eros meets Psyche for the first time … Or when Psyche meets Eros for the first time … No, I forgot!
This story is about a date … magical, magnificent, fantastic? Or maybe not! When their eyes meet for the first time, one is literally under a spell, in love for life? And the other feels less promising, more reasonable, more … or less? And yet something happened. A bright and intimate lightning caught the two young people into the ultimate abyss of this mysterious and ambitious feeling called love.
And yet nothing can stop the unavoidable; nothing can stop a train at full speed; nothing can prevent a lightning. Jealousy, envy, family, friends, toxic relatives … They all tried to separate the inseparable, to break the crystal, to destroy the dream … in vain! Eros and Psyche resisted, defeated, countered, attacked … violently!
And here is Eros who gets to know the true personality of Psyche, beyond her legendary beauty, beyond her qualities, beyond her truths. As for Psyche, with her naivety, her sweetness, her sleeping sickness, searches for the hidden reality of Eros, beyond his charm, his arms, his tears. An incredible, unforgiving, shameful duet evolving before our dazzled, amazed, overwhelmed eyes, and just as surprised, doubtful, accurate …
Is perfection real? Or is it a myth? A legend invented, tamed, senseless, surrounded? Eros likes to believe so and Psyche already believes it. Between the two, a whole life which unfolds like a red carpet, rises like a newborn baby, sees like a blind man finally regaining his sight, hears like a deaf man recovering his hearing.
The imperfection? It's definitely not an option for these two loved ones. They will never cease to understand each other, to meet up, to get angry, to make up, to listen to each other, to hug, to forgive, to pour out, to take a look at themselves, to touch each other, to get along, to simply love each other.
And if, in the end, the main thing was just, the one and only, modestly, endlessly, eternally, a main key in the intrinsic philosophy of Eros and his dear friend Psyche, the one who leads them in looking for a true sharing …