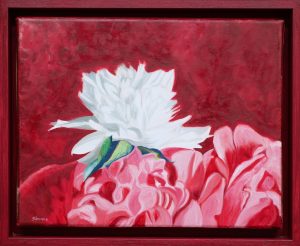 Oil on canvas – 9,45 x 11,81 inch – Unique work
The idea came to me one beautiful morning of spring.
As I looked at my bouquet of freshly picked peonies in a beautiful garden of a small house in Conches-sur-Gondoire, a light went on in my mind … Does it ring the bell? It was in Peonies 1!
Where were we ? Oh yes: here I am rocked by the song of marten brush on the canvas. Pigments here, medium there. All in small touches that are both precise and imprecise. And above all, to obtain the blur of certain petals to highlight the perspective. Not bad for a first time. That's it ! Except that today, I'm taking up the second one!
So this one would be like a white water lily on a fluffy bed of pink peonies. Of course, it's not a water lily, we all agree, it's a peony but it would be just as if. Well, it almost looks like she floats on silk. You would almost dive in. She is there all alone, all immaculate white, triumphant, pale. She would be almost cadaverous if I wanted to sound a little bit scary. Fortunately, it is not the case. I wish her to look beautiful, dignified, sassy if necessary. And also proudly making a difference from the others all dapper, rosy too, probably embarrassed by so much magnificent.
It's a tough day for me. The issue is right here and heavy too. I would dream of giving the illusion of the living, the bubbling with this background identical to the first, well most of it. Each day being a new day, the color will always be subtled… slignhtly. I tell myself the story of this peony-lily entering the world. Elsewhere, it would look like prom. Here, in botany… It could be a first season, a first spring, a final flowering. How would I know?
I work hard, for this second opus of a very first experience. The hours go by faster than ever. I absolutely have to finish this first draft today, well the day I painted it. No way I could break the rule. Just a little more effort. Just a little more focus. And also the presence! All that is missing is the cherry background, crushed raspberry. Here I changed the name again, I warned you in Peonies 1!
A few touches here and there, a brush to blur and off I go.