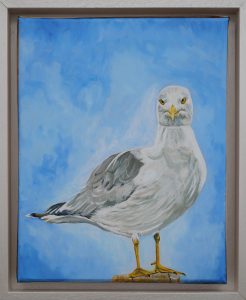 Oil on canvas – 11,81 x 9,45 inch – Unique work
While Paul is lying on the beach, he starts to think, he starts to dream. Then, a familiar sound pulls him out of his soft sleepiness. And what's this sound? The one that spreads on the seashore; the one that recalls holidays; the one that wakes up in the morning … the one of the seagulls. They are there, swirling, just above his head.
The cry of the seagull is exquisite. It brings Paul back to a childhood memory. He sees himself at his parents' house. He remembers this decoration hanging on the living room wall representing half a seagull. Of course, there was no scream! But Paul has always been fascinated by the bird. He finds the seagull both sulky and laughing; haughty and friendly; ordinary and majestic. He could sit there for hours contemplating her, making up a whole bunch of stories, each more extraordinary than the last. He could have been a writer. Yes, an animal writer, he would have liked it. But he didn't go down that road.
Paul grew up. He left his parents' house. He got married. He started his own family. Then, his parents died. Paul never saw the seagull ever again. And yet, it's as if she's never left him. Because every time he goes on vacation, whether in France or abroad, by the sea or a little further from the coast, there she is, devoted. Sometimes she even takes friends with her. So, they are a whole tribe to shout, to twirl against thick and thin. They sound happy. They can beg for some food here and there. Some, experts, steal it. Paul catches them flying with his camera. Sometimes, he makes videos. They make so much noise that you might think there are thousands of them!
The seagull is right above him now. Suddenly a thought crosses his mind. What if she ever took the urge, that damn seagull, to relieve her right here, right now. The drop would be perfect. So Paul jumps up from his beach towel, to the great surprise of his wife. Immediately with his feet in the sand, a monumental dropping lands right next to his big toe. Paul is stunned.