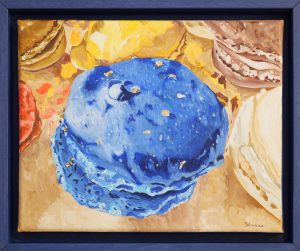 Oil on canvas – 9,45 x 11,81 inch – Unique work
The Great Horned Owl … It sounds like the name of a signature dessert!

I am a greedy born or born greedy, as you like, or as I like. As far back as I can remember, and to be completely honest with you, it's not that far back. Well, I was around 9 years old. Before … ??? But for the story, it doesn't matter. The only, the real importance is this greed that runs through my veins. And who will follow me for after … Obviously …
Every time I walk past a shop window, for the candy at first. It's okay, it is all about youth, novelty, kindness, comfort. As we get older, we are no longer on the same page. Everything is about belly now. The salty takes an increasingly important part in my life. And the salty shop windows have all their luck!
When I go through a cookbook (my sweet tooth) I am as interested in desserts, as in starters (an increasingly rare commodity nowadays) and main courses (which I eagerly eye). When I'm invited, then it's a double pleasure. The first is to taste and always enjoy it and the second is to know that it had nothing to do with me, it's the work of friends (another rare commodity).
One day, unlike any other, obviously, I taste, with friends, something fabulous, exceptional, unforgettable. I had eaten it before, of course, as a greed expert. But then these… frankly, never so good. If life is worth living, tasting this perfect thing is one of them, among many others, of course, whatever !!!
Come closer, I'll give you the magic word: macaroons… A weird name, however, almost hard in its sound. When in fact it melts in the mouth. It's just the right amount of smooth, sweet, crunchy, flavorful. I miss adjectives. And there, I only spoke of one sense: taste! I will say a few words about the sight: those magical colors that combine with the chosen flavor. That's something.
When I thought about my theme of the five senses and how to represent them all in painting, for the taste, the macaroons appeared to be essential. And why The Great Horned Owl? I will answer you … Why not …