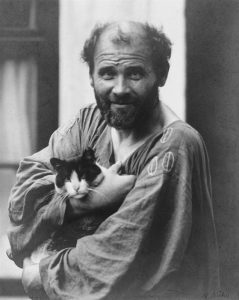 Gustav Klimt (July 14, 1862 – February 6, 1918) is an Austrian symbolist painter and active member of the Art Nouveau movement and the Vienna Secession. He is a complete artist: painter of character compositions, allegorical subjects, figures, nudes, portraits, landscapes, draftsman, decorator, painter of tapestry boxes, mosaics, ceramist, lithographer.
His father is a goldsmith precious metal engraver and his mother is a lyrical singer. From the age of 14 and for 7 years, he attends classes at the Vienna School of Arts and Crafts. With other artists, he creates allegories, frescoes for public buildings. Then he moves away from academism to draw inspiration from Japanese prints and symbolism.
In 1888, he receives the Golden Cross of the artistic merit from the Emperor Franz Joseph.
In 1898, he founds an art magazine entitled Ver sacrum with several of his artist friends and becomes the president of the Viennese Secession Association with the goal of reforming the artistic life of the time and making works of art that elevate Austrian art to international recognition.
In 1897 he paints his first landscapes.
From 1909, while visiting Paris where he discovers the fauvism, his style is purified and is closer to pointillism Seurat. His inspirations come from classical, Minoan and Egyptian Greece, Albrecht Dürer's carvings, late medieval European paintings and the Japanese Rimpa School.
He dies from a stroke. He leaves many unfinished canvases. His work features 230 paintings including 54 landscapes. Klimt has drawn a lot, officially 3700 numbers in his catalog.