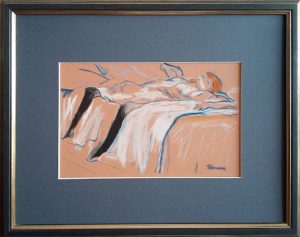 Inspired by Henri de Toulouse Lautrec (1864-1901) – Alone (1896) – Pastel on beige paper – 5,12 x 7,87 inch – SOLD

The word loneliness comes from the Latin solus meaning "alone".
Patty repeats this tiny little sentence in her head, again and again. She feels comfortable. In fact, loneliness weighs on her. And yet it's her shelter. She lets herself sink into what she imagines to be lust. She has no other choice. Well, that's what she always believed in. Or rather, what her family and friends have always made her believe.
So, she finds herself alone, each time she crosses the threshold of her door. At any time of the day or night, it's the same scenario. She plays with the three keys opening her armored door. Yes, a lock, a key, so for three locks it's three keys! Not even a pet to welcome her. She is allergic to dogs, cats, mites. Yes, ok, it's not an animal but … Let's go back to Patty.
She considers her small studio with a pathetic pout. How can she decently feel better in an environment so …
If only she had friends. Male, female, whatever. Even a single individual. But no, she hates people. She is extremely shy. Not only does she blush with disconcerting ease but she also loses all of her control up to the discomfort sometimes. Last week, at her office, as she was scheduled to speak in public at a meeting, she lost consciousness and her boss had to call the fire department. Of course, with empathy, two or three colleagues asked her how she was doing the next day but nothing more. She always eats alone at the cafeteria, mostly at the end of a large table where boys and girls scream with laughter at each mouthful. Fortunately, she doesn't really eat, she swallows. The torture lasts only ten minutes at the most.
The only friendly presence in this gloomy "single room", the TV. Patty lines up series on Netflix, reality shows as well. She loves the others life, he makes her forget her own. It's so much more comfortable, bearable. Then, when her eyes are no longer open, her eyelids too heavy to carry, she lies across her bed and sometimes dreams about the prince charming or the princess, according to her erratic and saucy imagination. Then, she forgets that she is alone.