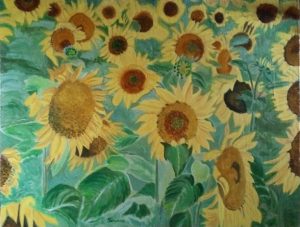 Oil on wood – 11,81 x 15,75 inch – Unique work

While it was grey, so grey in our lives, the Sun King appeared to us.
On a windy day, my sisters, my mother and I went to the annual general meeting of the sun fields. My ageing mother, grumpy sisters and myself, rather sceptical, were going with the flow. Driven by Aeolus, our god of the caring winds, we found ourselves huddled together with a crowd as scared, as curious and as enthusiastic.
Then, the wind calmed down giving way to a pouring rain. Our beautiful vibrant orange yellow petals are severely tarnished at once. For the older ones, withered, they broke loose. As for the hearts, a brownish tone appeared, to the despair of the ladies who took so much time to pump up!
My sisters and I remained stuck, as our mother had what I would call a slight dip. All around, a feverish energy spread, giving birth to a roar with ends shivering. The goal? Dry as fast as possible with the wind and the few rays of sun that had managed to pierce the thick grey clouds. You could feel the need to become beautiful flowers in appearance.
Then, everything became so quiet, so peaceful. Then, in a huge clamour from somewhere far behind us, he appeared. Sneaking between young and old, even very old, stalks, all without exception, excited, the hot, the one and only. The one everyone has been talking about for generations. The one who sometimes also does miracles, the one who watches over us all occasionally. The one who believes and who shows up every year for our greatest joy.
When he reached my height, when he touched my delicate petals, all pale yellow as they were then, I almost passed out, his strength is so much and immensely disturbing. I do not know about my sisters, and even less about my mother who deliberately hides her feelings, but as far as I'm concerned, as they say, he created the buzz! And even today, I am still moved. And yet, I am in the category of old, very, very old, of those who will most likely die in the year. It happened only once.
And yes, while it was grey, so grey in our lives, the Sun King appeared to us.