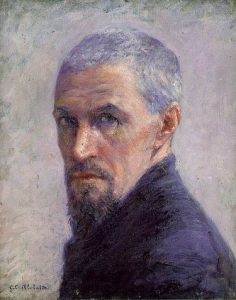 Gustave Caillebotte (August 19, 1848 – February 21, 1894) is a French painter, collector and sponsor.
Holder of a law degree, mobilized in the war of 1870, demobilized the following year, he joins a painter's studio to prepare the competitive examination to enter the academy of arts. He stays there only one year. He meets Marcellin Desboutin, Henri Rouart and Claude Monet. He organizes impresionnist exhibitions of 1877, 1879, 1880 and 1882.
In 1875, his painting Les Raboteurs de Parquet was refused at the Salon, the subject strucked by its extreme daily subject – today it is one of his most famous work presented at the Musée d'Orsay.
He bequeaths his collection of Impressionist paintings and drawings to the State. Passionate about sailing, member of the Circle of Sailing of Paris, he is also a fantastic naval architect and a regatta.
While working in his garden on a landscape, he gets cold and dies of a cerebral congestion at the age of 45 years.