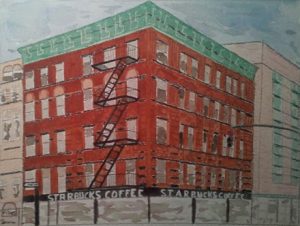 Watercolor / Red chalk on white paper – 5,90 x 7,87 inch – Unique work

Just arrived at the office, I already count the seconds, the minutes, the hours remaining to reach the sacred moment of lunchtime.
I still take the time to drink a coffee with colleagues to talk about the day to come ? No, that's in the movies, in fact, we're telling huge stuff and we laugh as if we were 14 years old! Either way, something in between. Anyway, it's a relaxing time before beginning the morning which doesn't seem optimistic. The bosses have arrived one after the other and their respective moods are appalling. No wonder, it's Monday! Which just show that not only the little staff is …
A memo to write, a meeting to organize, a trip to plan, … the constant phone calls, the steady verbal assaults, the heavy atmosphere of the open space, … All aggravating circumstances to maintain the count of time in my head. Cow, it's almost noon and I have to go to my boss's office. An emergency to deal with immediately before lunch and … Of course …
I'm working as fast as I can. In these moments, luck smiles at me every time. I give a call to each needed interlocutor, I write a few lines, I do some research on the appropriate server to complete the powerpoint, I reread several times to avoid any mistake that would be crucial and … I press "send" a few minutes before 13:00. Do I still have enough time to go? I must be back at 14:00 sharp, a video conference to start. Oh and, I want it so much, I need it too. I tidy up all my desk, confidentiality of course, and in the blink of an eye I am in my car on my way towards my favorite place, my haven of peace, my place of natural resource!
I'm almost there … I push the door of … a crazy queue to the cash register. I'm thinking of going back but … Instead, I choose a club sandwich to heat up, a blueberries muffin and a huge tea. I slalom between the coffee tables and the leather chairs and join MY seat. I sit down, open my handbag, take out my book, make myself comfortable. Thank you Starbucks Coffee.