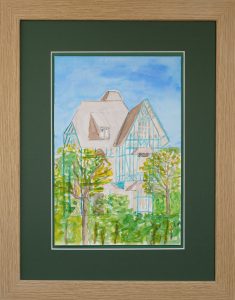 Watercolor – 11,02 x 7,28 inch – Unique work
Where are you going this year on summer vacation? Me ? I go to the family home in Le Touquet. Ah and where is it? In the north ? But you're going to freeze …
And no, far worse … Yvonne, yes bad luck, she inherited her grandmother's first name, thinks she is safe in this large half-timbered house with bright turquoise colors and dark wood. She's on her own, in the large downstairs living room, she is reading a book Le bal des folles written by Victoria Mas. She's so focused on the pages of this novel she's so fond of, that she doesn't pay attention to the wind outside which has risen rather alarmingly. She also didn't hear her cell phone ringing repeatedly because it was left on the kitchen table and on silent mode. Because she didn't want to be disturbed under any circumstances.
It's only when she finally gets up to make herself a cup of tea that Yvonne suspects something is wrong, but really wrong. She puts the kettle on. She glances distractedly out the window that looks out onto the street and… trees and shrubs are moving all over the place. The rain took over a few seconds later. It shatters into large drops on the glass. The wind makes a muffled and disturbing noise. It chokes the whistle of the kettle, which can no longer signal in vain that the water is hot, boiling hot even now. The young woman then checks her phone and lets out a cry of horror. About fifty missed calls for as many text messages and voice messages. Her mom, obviously worried about her.
She calls her back instantly to reassure her first and then to … No more doubts, it's not just a little rain, wind and rain, it's obviously a storm. What is there to be done ? Where to go ? Yvonne begins to panic. She hangs up and calls the fire department. Obviously, this is not getting anywhere. Everyone had the same idea. She tries to open the front door but an in-draft air of incredible violence makes her change her mind instantly. She then decides to stay in the living room and wait for it to pass. The house will protect her, of course!
Like a hurricane …