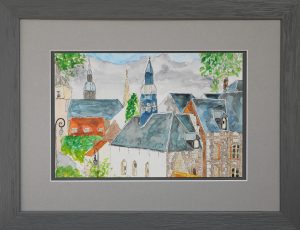 Watercolor – 7,28 x 11,02 inch – Unique work
In the 9th century, the castle of Montreuil is the main fortress in the region.
The city owes its name to a "small monastery" (monasterolium). After 913, the monks of Landévennec lived there after the destruction of their monastery by the Vikings and created the Saint-Walloy abbey.
In 980, Montreuil was attached to the royal domain. In 988, thanks to Hugues Capet, Montreuil became the only seaport of the French monarchy.
Many religious buildings and relics attract an impressive number of pilgrims. The city is famous for the manufacture of its sheets. But in this period of the 15th century, two terrible events tarnished its splendor forever: the collapse of several places of worship and the silting of the Canche. Maritime trade then declined.
A century later, in June 1537, the troops of Charles V and Henry VIII surrounded Montreuil and destroyed a large part of the city. Then, in 1596, the plague struck what remained of its inhabitants.
In 1567, Charles IX built a citadel in place of the old 13th century castle. Vauban added a gunpowder magazine and an arsenal.
In the 18th century, many mansions were born in the now prosperous city.
In the 19th century, part of the lower ramparts was destroyed to make way for the Arras-Etaples railway line, which came into service on August 5, 1878.
During the First World War, Montreuil hosted the great British headquarters under the command of Marshal Douglas Haig.
Montreuil is also where the first part of Victor Hugo's novel Les Misérables is located. Jean Valjean, has a large factory there which made the prosperity of the city of which he became the mayor. It is in this city that the conflict between Jean Valjean and Javert is mainly expressed. Finally, Montreuil is also the birthplace of Fantine, the mother of Cosette.
And while walking around the city on the ramparts, I remember these few historical facts that have marked this ground now in peace but invaded by visitors, like me, curious and attracted by places rich in twists and turns. It's as if the small good and the big bad are still palpable today. As if there reigned in the air, in the energy of time, something although invisible and intangible that remains, that breathes and that watches for memory …