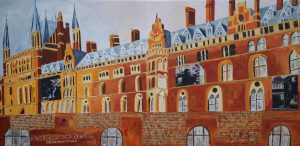 Oil on canvas – 11,81 x 23,62 inch – Unique work
Goodbye London, goodbye London, wish me luck, please London …
A song written and composed all by myself, while I was locked outside the house and patiently waiting for minutes, hours for my mother to come home. It's 1981, and I was going to leave London forever after three wonderful years… My favorite three years of all my childhood and youth. The reason can be put in one word: freedom.
I lived in a big house in a classy suburb in North West London. I had two bedrooms, one for sleeping, the other for playing, my bathroom and a toilet that I shared with my brother. No, I was not in a mansion, but 2700 sq ft is what you may call a comfortable place to live. Especially since in France, I had just left a flat half the size in an ordinary southern suburb of Paris without. I took the tube to my French high school which gave me the opportunity to read French and English books. At that time I discovered Victor Hugo and above all, George Sand, who remains to this day my favorite author, with La Mare aux Diables and La Petite Fadette.
We had neighbors on the top two floors, professional writers and most importantly to me, the parents of a cute little cat, pretty wild but an angel with me, Bicky! As soon as I came home from school, on weekends, when the neighbor saw me in the garden, he used to call out to me and ask me: "do you want the cat? ". And what do you think? Obviously! She was my friend, my confidant. She warmed my heart and dried my tears. She is still in my mind, almost every day …
It was also around this time that I started writing. And no, not a diary, ever. Write about my miserable daily life? No thanks ! I started out with poems. I wrote quite a few. And then, when it was time to leave, I promised the neighbor that I would never stop writing in all my life. And here I am today testifying to these three so tiny years that I wanted to capture using this painting, some photos, the Ones: Bicky, the neighbor, the house, encrusted on the walls of Saint-Pancras and a dated text of August 21, 1978 on color, my date of arrival into the country!