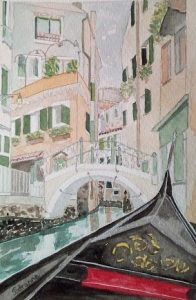 Watercolour / Black stone / Gouache – 8,66 x 6,10 inch – Unique work

Pascal is madly in love with his wife Veronique. For their 20 years wedding anniversary, he had a tremendous idea. His children would willingly add "for a change! ". Probably not quite creative but he knows from a reliable source, his mother-in-law, that it's her life's dream: Venice! Visit the city before the water has drowned it.
It's a complete surprise and Veronique is filled with happiness. Suddenly, she sees a gondola. Pascal gently takes her hand, draws her to himself, embraces her and whispers something in her ear. Moved to tears, Veronique is guided to a gondola that seems to have waited forever.
Comfortably sitted, they let themselves be carried by the waves and the songs of the gondolier. He also takes the opportunity to provide comments during the trip, the houses, the Bridge of Sighs, the floods, tourism. All in a rough English that made the lovers laugh, inside of course, as on day one.
Veronique is astounded. Pascal just as much. Would it be more by the surroundings or by the outstanding kind and caring look in his wife's eyes who does not lose a crumb? He couldn't say or rather … Yes, of course, his wife he has loved at first sight for so many years now. He hasn't always been a perfect husband and yet she never made any hints even though …
They now meet other gondolas with other hilarious tourists for some, concentrated for others. Phew, this one went very close, their gondola pitches right, then left. Their gondolier restores the balance with an expert hand. Soon they pass under a bridge which seems so very low. Instinctively they lean forward, banging their heads strongly under the jeering look of their host. A little stunned, surprised, they end up falling into each other's arms.
The sun, high in the sky, warmly heats their old skins! A surprisingly splendid weather for April. They would have liked the space time to freeze. Oh not forever but for a few seconds, minutes, hours more. With a heavy heart, Veronique seized her husband's hand to get out from the passing and magical boat. But what a wonderful time to remember for those days when …