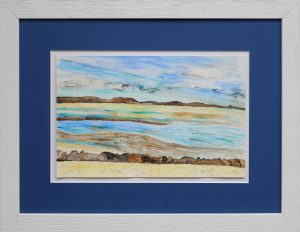 Watercolor – 7,08 x 11,02 inch – Unique work
A small, big, huge treasure of the Opal Coast …
The Opal Coast takes its name from its unique gradation of colors on the sea depending on the weather and the tides. Gorgeous ! It may be the little sister of the Baie de Somme, but what splendor all by itself.
Authie Bay is for those who, just like like me, love space and authenticity, the nature and the wild. What was my surprise when I found myself almost face to face with a whole colony of gray seals and sea calves. When my friends took me to the Bay to see the seals, I expected to see far away, in the rough sea, a head lost among the vastness. On the contrary ! Nothing to do with it … I found myself facing thirty or even fifty seals and calves all mixed taning a few meters from me and onlookers just as amazed. Others, on the other hand, had pulled out the zoom for wildlife photography. And here they are, peaceful, on their islets disappearing with the tides. Then they let themselves slide and dive.
What else ? On the flora side, among the dunes, the sea buckthorn. But be careful, it stings. Nevertheless, its orange berries are deliciously sour and sweet. The sea aster or "pig's ear" named by its shape, is gorgeous, cooked in butter with onions and shallots. The obione turns into crunchy crisps for an appetif. Everyone is starting to know samphire, but be careful not to step on it when you walk in the dunes. It tastes like pickle and goes very well with fish.
On the crustacean side, you have the shell, or rather, the colony of shells that is prohibited to collect! But at the fishmonger's and prepared like mussels, bon appétit! The grey shrimp … a bit of a hassle to peel, I must admit. But nice to harvest as long as it is at least 3 cm long. Cooked in boiling water for a minute, you will be in for a treat. Don't forget to taste the bouchot mussels with fries. THE dish of the Opal Coast!
In conclusion, do you fancy a small bouquet of Sea Lilac or Sea Lavender? Mine enjoys my living room.