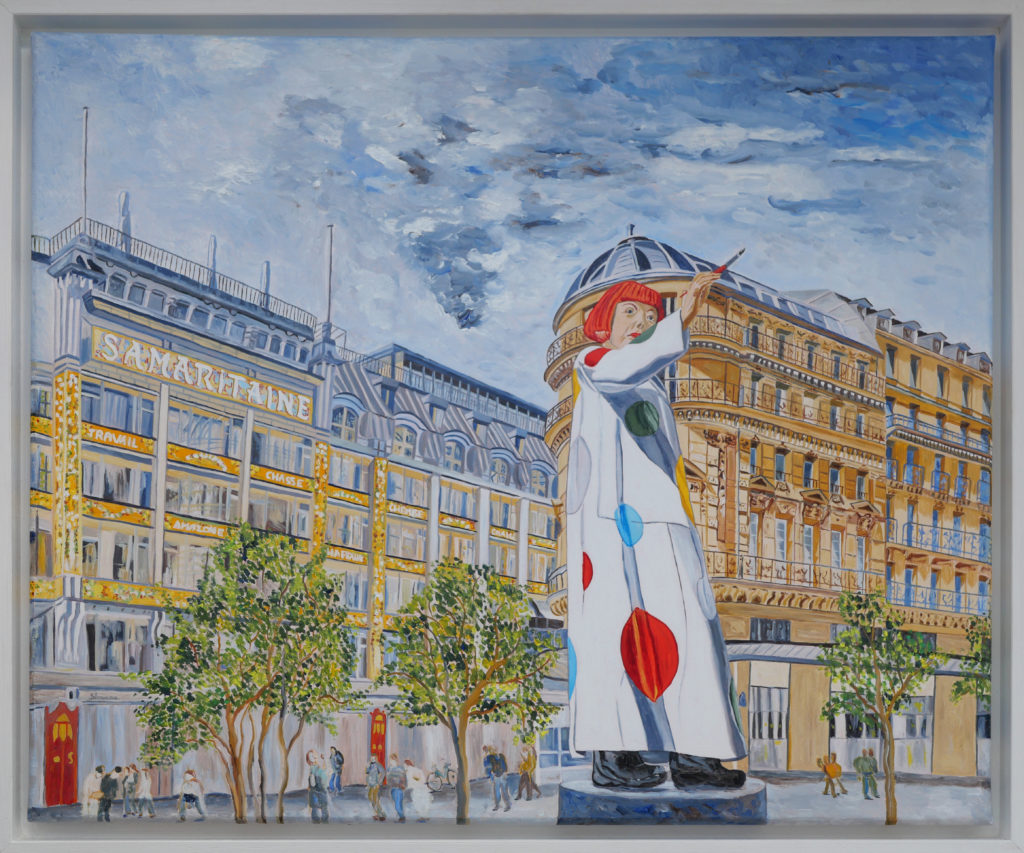 Oil on canvas – 20 x 24 inch – Unique work
It was in 2011, at the Centre Pompidou, in Paris, that I discovered, with my daughter, Yayoi Kusama, an avant-garde contemporary Japanese artist who is all at once a painter, a sculptor and an author. My daughter, passionate about Japan, literally dragged me to go with her. What a wonderful surprise!
We are both immediately caught up in her style. It's literally love at first sight. The exhibition presents a selection of one hundred and fifty works of art produced between 1949 and 2010. A pure delight for all our senses. And the very first one is our amazed eyes. These gigantic peas resulting from her hallucinations are incredible. All of her art that saves her from her toxic family resonates with us. What a strength, what a life force.
And then, years later, Yayoi Kusama reappears in the capital in a completely different form, just as gigantic! She sits like a queen in front of La Samaritaine. Founded by Ernest and Marie-Louise Cognac-Jaÿ in 1870, the small shop on rue du Pont-Neuf has become more than a department store with its Art Nouveau building on rue de Rivoli. It's 20,000 m² for a selection of more than 600 brands from the world of fashion, watchmaking, jewelry and the largest beauty center in Europe. Just like that ! This emblematic place fits perfectly with this one of a kind in the world artist.
I really enjoyed myself drawing and adding color to this painting which holds an important place in my heart. As it progressed, I revisited those two hours spent, so connected, with my daughter, 12 years back. Our wonder and our complicity are intact in my memories.
My favorite moment in the making of this last painting was the coloring of Yayoi Kusama. Her white dress, her colored polka dots hypnotized me. I who usually rework each painting at least twice, there, I had it in a touch of the brush. And I knew it perfectly well from the biginning: no hesitation, with steady hands, the precise and right gesture that rarely happens. It was one of those moments to live. It might have been waiting since 2011, who knows…
I am very happy to share it with you. I hope it brings you as much joy in your life as it brings me in mine. It is, to this day, certainly, my favorite painting even if others will come…