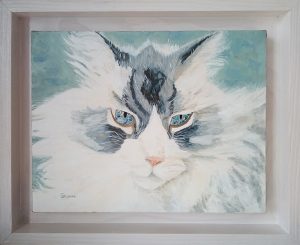 Oil on canvas – 10,63 x 13,78 inch – Unique work – SOLD

As far as I can remember, I've always wanted a cat. I've always loved this pet. Why ?
Probably because I had neighbours who had a tiny furball that spent most of her time in my bedroom. Her name was Bicky and she was the love of my life. She knew all about my joys, all about my sorrows, and mostly my sorrows, all about my secrets too. We were part of each other.
And then I grew up.
As an adult, a mother myself, the idea of finally realizing my dream kept going round in my head constantly. And one day, I found myself in a house with a ragdoll litter. Cats recognized for their extreme kindness and unconditional love for their master. He was there, so tiny, entirely white, among his brothers and sisters. He was only 10 days old. My daughter was surprised to find him so fragile but already playful.
Months have passed and there he is in his new home. The first night was awful. He, almost, cried all night. The instructions were loud and clear: leave him in the kitchen, do not open the bedroom doors, he will get used to it. The next morning, what a joy. It was a long weekend, so I could take good care of him .
Over the years, the kitten has become a cat. Our own desires have fed our mutual love. He is both wise and mischievous, obedient and stubborn, close and independent. He is all at once.
And today ? He sleeps in my bed. He purrs at each of my awakenings. He communicates with me at all times meowing, licking my fingers when I cuddle him, holding my hand so that I can take care of him again and again. He is an only child and so spoiled.
I like watching him rest peacefully on the cabriolet, his armchair that he has entirely scratched according to his taste. He seems deeply asleep and yet at each of my movements he purrs immediately and as I move closer, he opens an eye and if he could smile at me in a human way speaking, he would. I stare deeply at his blue eyes and it is as if we shared our feelings, our purpose.
He will soon be 12 years old and it seems like yesterday when he came through the door, Charly.