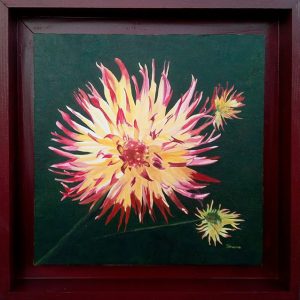 Oil on wood – 11,81 x 11,81 inch – Unique work

Once upon a time, in a country far far away, there was a tiny garden inhabited by extraordinary flowers.
Flowers both beautiful and cruel, both loyal and rebel, both eternal and mortal invading the meadows. Among these flowers, there is one of exceptional beauty, with « rose madder » red color at the ends: Medusa. The eldest of a large family, she struggled to find her place among her twelve brothers and sisters. She constantely had to make sure that everything was perfect, tidy, clean. A difficult start in life. After her little and last sister's departure, Medusa finally left the family meadow.
Medusa has wandered from villages to villages, from gardens to gardens, for a long time. She was willing to find the perfect place, both pretty and away from any civilization. Above all, she wanted to evaluate her evil powers freely. A gift inherited from her great great-grandmother but kept secret so as not to bring trouble to her family. Now she is ready and in a hurry to have a little fun with the human race.
Today is the first day of summer, Medusa flourishes fully. She takes it easy and shudders with each breeze of this little fresh wind coming from the north. Ah, there she is at last. The one that bullies, obviously for decades, this little piece of land. And how ? In a most straightforward way: one day she waters, the other she forgets. The poor Medusa's new friends can't take it anymore. One by one, they told her about the harsh reality of their lives. They already have it short but frankly without food for several days and then drowned, it's too much. So Medusa offered her help, without getting into the specifics.
As Denise reaches Medusa's bed, effortlessly the latter delicately shakes her petals in the wind to draw her attention. The human can't resist this tempting dance. So she stretches her arm and brushes the soft tentacles with her right hand. The petals, at her touch, harden instantly and splash Denise's fingertips with a greenish viscous substance. All of a sudden, the old woman staggers, loses her balance and lands on the wet floor with morning dew. Not far away, Medusa stares at her and waits patiently for her to become a frog.