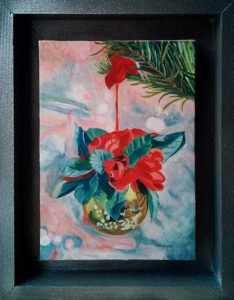 Oil on wood – 10,63 x 7,48 inch – Unique work
Estelle can't get to sleep. Her mom told her a story that was intriguing, interesting and terrifying. It is the story of the magic Christmas ball. The one that is golden with red flowers and green leaves on the top and lights up at night.
And this magic Christmas ball, Estelle saw one exactly like it with her own eyes this morning in the Christmas tree. She is pretty sure that it is this one. It matches perfectly to the earlier description. She doesn't remember its presence last year. But now she has no doubts. Besides, she is too scared to step out of her bed to check, in other words, to clear her mind. She prefers to hide under her duvet and control her breathing.
But what would she be afraid of after all? What can a Christmas ball do to her? It's duck, it's not even alive. And yet, her mom had a completely different speech just a few minutes ago. In fact, this bauble has the power to discover good children and point her petals towards awful children. Those who have messed around, those who don't obey, those who are sassy. And as Christmas approaches, to have lots of presents under the tree, Santa must have permission from this damn bauble. Otherwise, he goes to the next house.
In theory, Estelle is always a good girl, well approximatively, let's rather say most of the time. But last week, she went crazy and was grounded of cartoons throughout the following weekend. She foolishly let herself be dragged away by her best friend by improperly asking for candies before bed time. Because this best friend is a world champion to always get everything she wants. Estelle told herself, after talking with her at the afternoon break at school, "what if I tried tonight to put my mother to the test? ". Basically, it was just like that and then the situation escalated. Estelle has totally lost control. In fact, her father came back earlier than usual and there … as she didn't want to surrender, she lost the battle and maybe even the war with it.
And this Christmas ball story … as long as … No way.