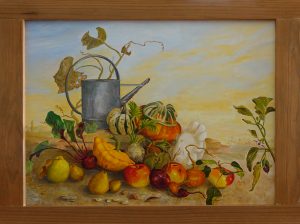 Oil on wood – 21,26 x 28,34 inch – Unique work
Dorothy lives in Sainte Cécile with her parents and her cat Charly. One day as a tornado has passed by while ravaging everything in its path, Dorothy, now an orphan, finds herself stranded on an unknown land, Charly by her side.
Arms leaning on a squash and a turban pumpkin, she rises up and looks at the surroundings. Nothing on the horizon, but a whole vegetable garden at her feet. And fruits too! It's then that a witch, carrying a rusty and tattered watering can, comes towards her. The little girl tells her about her misadventure. The witch, full of kind understanding, suggests that she follows the path lined with small stones begining right under her feet and reaches a magical city in which a house just as magical, inhabited by a magician, has a door leading to the other world, hers.
Dorothy goes on the road realizing that she is currently walking in a world parallel to hers. Funny world besides. Suddenly, she meets a scarecrow a raven around the waist, followed by a winemaker a bunch of grapes in hand, and a fox a hen in the mouth. The little girl reveals her plans and agrees to take her new friends in consultation with the magician to deliver them from their respective spells.
After a few days, they reach the magical city. No noise, no passer-by. Complete darkness. Reading the plan drawn by the nice witch, Dorothy finds The house. She knocks three times at the front door, hears a click and presto, here they are in the hall. A musty, rotted smell enters all the noses. The fox begins to sneeze, the winemaker coughs, the scarecrow staggers. The little girl, on her own, makes her way through the pile of newspapers and rubbish that clutter the scene. At the end of the long corridor, an unlocked door.
A ridiculously small man turns around feeling her presence, a wand in his hand. With a smiling face, he pronounces some incomprehensible words while making big gestures cracking the air. Then, suddenly he stops and points his finger at Dorothy. The latter begins to shake and kick. The next moment she wakes up in her own bed, Charly comfortably lying.
But how about, the scarecrow, the winemaker, the fox? That's another story …