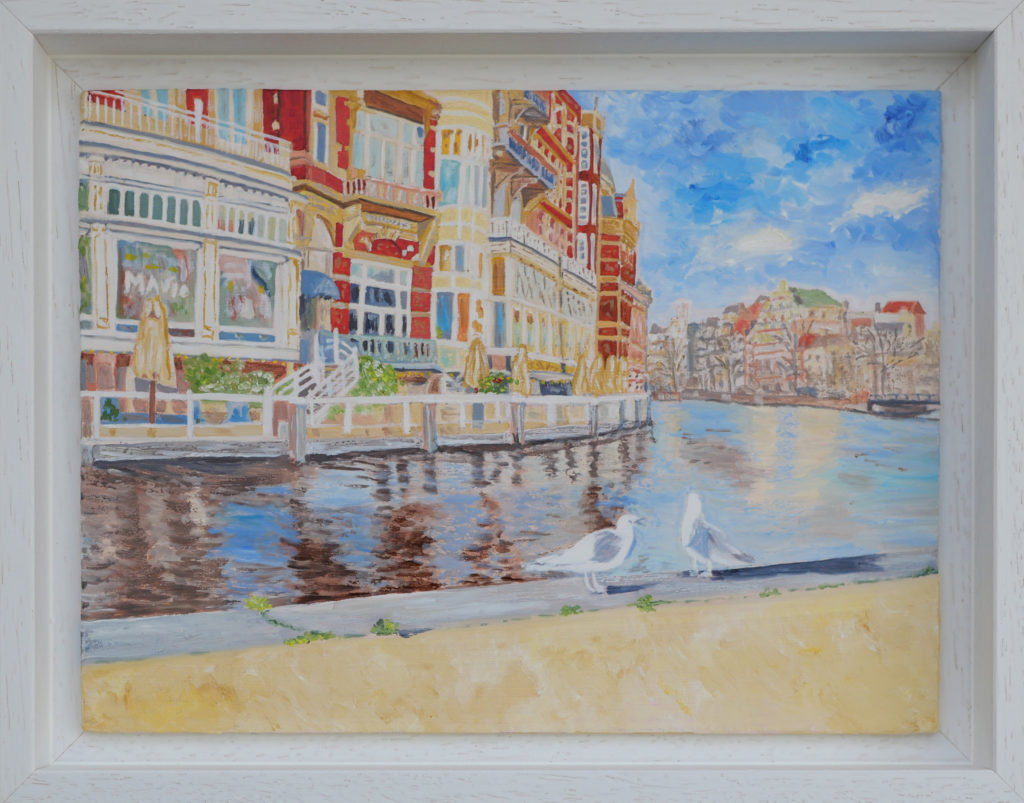 Oil on cardboard – 7 x 9,5 inch – Unique work
The place is magnificent. Located on the banks of the Amstel River, Brasserie Marie is a must-see restaurant in the heart of Amsterdam. It owes its name to a strong and independent woman, the cousin of Gérard Heineken. The latter is passionate about fashion, traveling to the Côte d'Azur in France and botanical gardens. The menu draws its inspiration from French flavors.
It is therefore quite naturally in front of this exquisit building that Leo meets the beautiful Nala. Leo has been around Nala for six months now. He has been under her spell since the very first day when he met her piercing gaze as he flew away, during a nighttime trip, high up in the starry sky. Captivated, he almost hit her. He then tried to follow her discreetly but he failed miserably. She turned around and disappeared.
A few days later, after a meticulous investigation with his friends and work colleagues, he finally finds traces of the beautiful young lady. This time he will be much more careful so as not to scare her. No need to act like a stalker like when they first met. He inquires and casually manages to peck at breadcrumbs near his crush. He approaches subtly and gives her languid glances.
The merry-go-round lasts, again and again… Then, one fine morning, they are side by side sharing a leftover sandwich that ended up there for their greatest joy. The moment is magical. Leo makes the most of this spontaneous proximity. He dares to ask her her first name…. Nala, he will never forget it.
Then, radio silence for several days. Nala is nowhere to be found. Leo is seriously starting to worry. He meets her by chance, in a deserted neighborhood. She is there, alone, in a corner, her head bowed. She's crying. Leo tries an approach. He's so shy. She turns around and comes to meet him, her eyes so sad. She abruptly announces to him that her father died of a long illness, hence his absence lately. Leo is devastated. He does not yet dare to snuggle up against him to cheer her up. On the other hand, he offers her a date in a whisper …
And here they are, facing Marie, facing each other, transfixed lovers, imagining plans for their future…