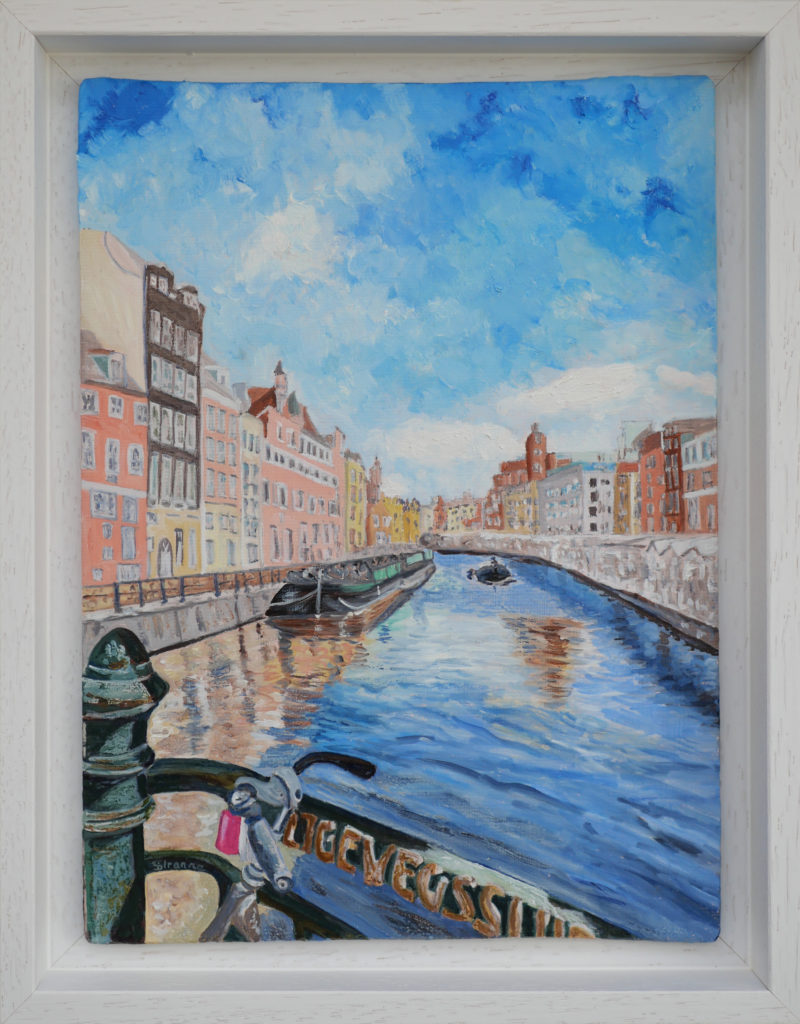 Oil on cardboard – 9,5 x 7 inch – Unique work
How about a weekend in Amsterdam? A nice perspective…
Amsterdam is like a small town surrounded by water with houses from another time in shimmering colors. A very lively city, day and night, in which I always felt safe.
Several neighborhoods are worth the detour, accessible by foot and full of nice surprises. I share with you my favorites.
Well-hidden among the world-famous shops, a few meters from the Kalverstraat, through a small back door, hidden from prying eyes: Het Begijnhof (the Beguinage), founded in the 14th century. A group of buildings which houses private dwellings including the oldest wooden house (Het Houten Huys), a British Reformed Church which serves as a chapel. A haven of peace in the middle of the hustle and bustle of the city. A 5-minute walk away, take a detour to the city's oldest bar, Café Hoppe!
The historic district of the 9 Straatjes (the 9 streets between the Prinsengracht, the Herengracht, the Raadhuisstraat and Leidsegracht), is a real jewel. And I'm not saying that because the gallery in which I have the pleasure and honor of exhibiting is located there, at 24 Berenstraat, or maybe I am …
Let's not forget the museum district. The Van Gogh Museum reveals more than 200 paintings and 500 drawings by the famous Vincent!
Right next door is the Rijksmuseum, where you can discover or revisit the classics of Dutch painting from the 17th century, known as "the Golden Age". And more particularly you will be able to admire "The Night Watch" by Rembrandt. I remained hypnotized by this masterpiece. Worth the visit on its own!
For contemporary art enthusiasts, the Stedelijk is there for you. An ultra-modern building to offer a very fine collection of paintings by masters such as Matisse, Mondrian, De Kooning, Chagall, Malevitch, Picasso…
To recover from your emotions, just next to the museum district, a 48 ha park, the Vondel Park.

To end this weekend, a quick word about Centraal Station: a station built in 1869 on the sea, which rests on 8,687 stilts (I counted them myself!), in neo-Renaissance style. By taking a free ferry, just behind it, you will reach the Eye Restaurant with a stunning view!