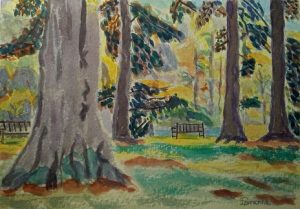 Watercolor – Black stone – 6,10 x 8,66 inch – Unique work

This park means a lot to me. It' all about my childhood. West of London, about 30 minutes from the center by tube, an area of 121 hectares, Kew Gardens is home to one of the largest collections of plants in the world, more than 30,000 species. Their herbarium follows the same logic with 7 million specimens. Founded in 1759 during the Victorian era, it has been listed since July 2003 on the UNESCO World Heritage List.
I went with school. It all comes back to me. Or thanks to a few yellowing pictures taken that day, trace of an almost happy childhood. I was in college in sixth … or fifth grade. The sandwiches, in a suspicious plastic bag had stuck. But I didn't get sick. With my friends, we played hide-and-seek behind the trees' huge trunks and teachers looked at us with a funny and caring face. Then we had to leave.
I also went there with my parents and friends for a picnic. It was always raining. In huge coolers, everything was planned from an aperitif with the appropriate biscuits (ring potatoes, my favorite) to coffee, starter, main course and wine. We usually never mess around with meals, even outdoors. We had no more than a couple of lunches there. But, each time, what a journey.
And then, I went back with my daughter for her twentieth birthday. I hardly recognized the spots. Everything seemed smaller, more … I don't know. We walked on the short grass. It was almost closing time, it was almost deserted. We didn't get to the giant water lilies but we saw the tropical greenhouse, for sure. And the pagoda too. And we sat on a wooden bench. We remade the world as a mother and daughter do. I was fine, light years away. I would have loved to stop the time even for a few hours. Enjoy these moments of nostalgia and current time for a little while. And then we had to go, leave the place, cross the small town with its typical houses with bow windows. We had a tea with special treats before taking the subway surrounded by shops so British and taking off definitely elsewhere.