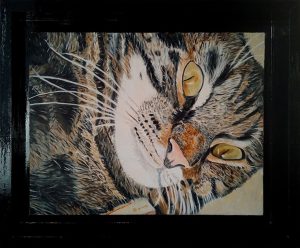 Oil on wood – 10,63 x 13,78 inch – Unique work

It's still raining on Brest that day … Chaka sleeps peacefully on the couch. He's dreaming. His legs move very slightly and his eyelids flash at high speed. It's hilarious.
Chaka is a complete story. He has an ever growing appetite, a permanent bulimia. A desire for ever lasting strokes, so much love to share. Quite a cat who is worth … knowing!
He is not too keen on playing but loves sleeping … oh yes! And also, he loves watching over me when I work. He sticks to me and lies down as close as possible. And there, he purrs so loud. And he's drooling too. His latest thing? He doesn't touch his bowl until he has a big hug. And he decides by himself when he has had enough. Cuddles of course, because the kibbles … there are'nt enough.
What else, he watches TV while snoring. And for the night? It's not complicated, he just needs a human being. And then, it's disneyland! He desperately tries to lie close to the head but he always gets beat up and lands at the feet. But he never considers himself beaten and during the night, while some goes up the rivers, namely the salmon, he goes up the bed and sniffs with, his wet nose, the forehead near the hairline.
I forgot to mention that Chaka is extremely obedient. He perfectly understands the steady "no" and if necessary "your bottom is in trouble" with a threatening finger. Without forgetting the "in the kitchen"!
Does he have friends? Of course he does! Birds … He loves birds. He watches them for hours through the window and cackles like a lunatic behind the window. His whole body is shaking. It's hilarious. And when one of them approaches, he is in a trance, literally. He is now 12 years old but he looks very young. And since he lost a lot of weight, he feels like he has wings. He climbs everywhere, runs into the flat like a little pony. His green, gold eyes, it depends on the brightness, become accordingly furious, curious, in love.