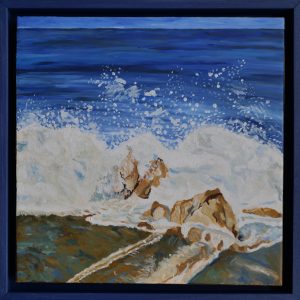 Oil on canvas – 11,81 x 11,81 inch – Unique work
Comfortably seated on his little piece of bath towel borrowed from his daughter the same morning, leaning against a rock, Joël is seized by the show before his amazed eyes.
No, it's not a storm, far from it. It's just a few big waves that clumsily fail on big stones laid loose on the hot sand. A majestic, light, air show…
Joël begins to think. He makes a life review. An ordinary childhood. Oh he didn't have fun every day, but it wasn't hell either. Parents often away, absorbed by their respective careers. Then he failed graduate studies. Joël didn't like studying. He made sure to fail each of his exams. He therefore entered working life in a small family business to become an electrician. At first, it found it fun. And then he got tired. He became hopeless. He arrived always late, was disrespectful to customers. He got fired. His father, always invested in the eventual success of his only son, finds him another job in his own company. He will be with the workers in the warehouse and will essentially an order picker. He gets along perfectly. He's having a blast. Then alcohol appears in his life. A few months later, he gets married and immediately after becomes a dad. The years go by, fast, painful, frantic. He ends up getting a divorce, and changes jobs every two years. The only link that keeps him alive is his daughter. But she too is growing. She is now in an engineering school. He only has a few contacts with her, but thousand memories, including her Pokemon towel that he never returned back. He is over fifty now and there is nothing left to cheer him up. His unique passion: the sea with its hugeness, its color, its sound, its vibration, its purity, its innocence, its "bubbling", its energy, its faith.
Joël, impatient, approached and … oops, he slipped. He opened his knee. From extreme pain he lost consciousness. It collapses head first on the wet sand, a few inches of water. He won't realize anything. He won't suffer either. Just like a candle in the wind.
Joël wanted to see the sea spray.